Hotel Tourism Course
2-year Program for Specialist License (application pending)
Training experts for the expanding hotel industry
Hotels are used for a wide variety of purposes, including family tourism, business trips, conferences, and wedding ceremonies and festivities. This course is designed to cultivate hotel industry experts capable of satisfying the needs of all kinds of customers.
Even if you do not have JLPT test level N2 or higher, do not worry!
A simulation for realizing your dreams
A Communication Design Course to Realize Your Dreams
Design as a form of communication is vital in many kinds of businesses, which are constantly changing with the times. Nippon Design Welfare College has devised a curriculum that provides a thorough one-year program of education in "design communication" and "human communication," through learning the essence of a variety of design fields, broadly and comprehensively, starting with the fundamentals.
Learning features of the Hotel Tourism Course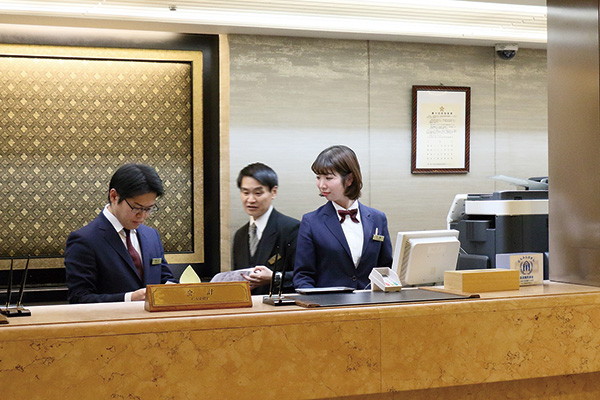 Learning Feature (1)
Hotel Management
Students learn the management techniques necessary for the hotel business, and approaches to hotel management from the perspective of "corporate philosophy," "hotel concepts," "business management," "organization," "hospitality," and "safety and security."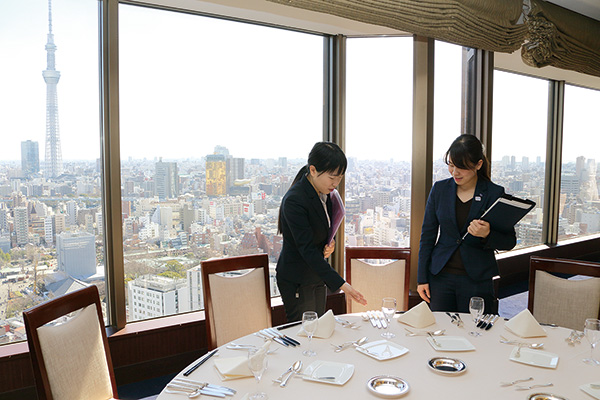 Learning Feature (2)
General Concierge Theory
A concierge is a customer service professional who responds to all kinds of customer demands and requests.
Students learn how to implement guest relations in ways that involve procedures for making reservations and checking details for sightseeing and transport, as well as resolving problems and difficulties.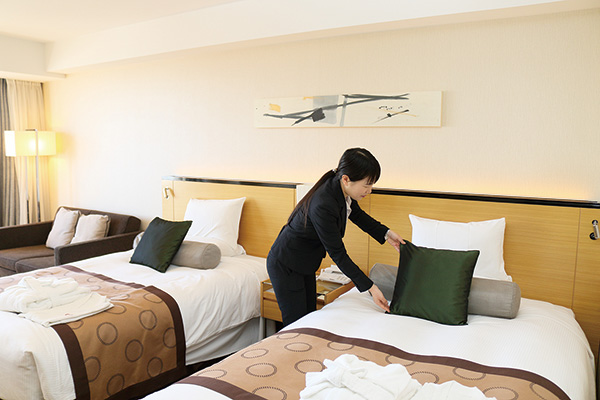 Learning Feature (3)
Hospitality Theory
This subject aims at cultivating the ability to deliver friendly, considerate hospitality to hotel customers.
Students learn the spirit of hospitality that will not only delight and impress customers, but also give themselves pleasure.
Curriculum
1st year
| | |
| --- | --- |
| Lectures | Group Work I/Group Work II/Group Work III/Communication TheoryI/Communication Theory II/F&B Theory/General Hotel Theory/General Concierge Theory/General Bridal Theory/History I/Business Skills I/Employment Measures I/Accommodation Theory I |
| Seminars | Tourism Design Seminar I |
| Practical Training | Computer Skills I/Computer Skills II/F&B Practice I/Accommodation Practice I/Hotel Practice I/Annual Planning Study |
2nd year
| | |
| --- | --- |
| Lectures | History II/Business Skills II/Employment Measures II/Accommodation Theory III/Hotel Events/Presentation/Service Assistance/General Inbound Tourism Theory/Hospitality Theory/Foreign Languages/Marketing Theory/Hotel Management |
| Seminars | Tourism Design Seminar II |
| Practical Training | Computer Skills III/Computer Skills IV/F&B Practice II/Accommodation Practice II/Hotel Practice II/Graduation Project Preparation |
Lectures
Elective subjects in 1st and 2nd years
English Conversation I/English Conversation II/Chinese I/Chinese II/Japanese I/Japanese II/2D Graphics/3D Graphics
---
Sample timetable
mon
tue
wed
thu
fri
sat
School of Hotel Tourism
Morning
Group Work I
Group Work II
Communication Theory II
F&B Theory
General Hotel Theory
General Bridal Theory
Elective subjects:
English Conversation I, English Conversation II, Chinese
Afternoon
Group Work III
Communication Theory I
General Concierge Theory
Elective subjects: Chinese II, Japanese I, Japanese II