From imagination to originality,
guiding the hopes and ideas of each student, one by one, to the world of creation and creativity, through communication.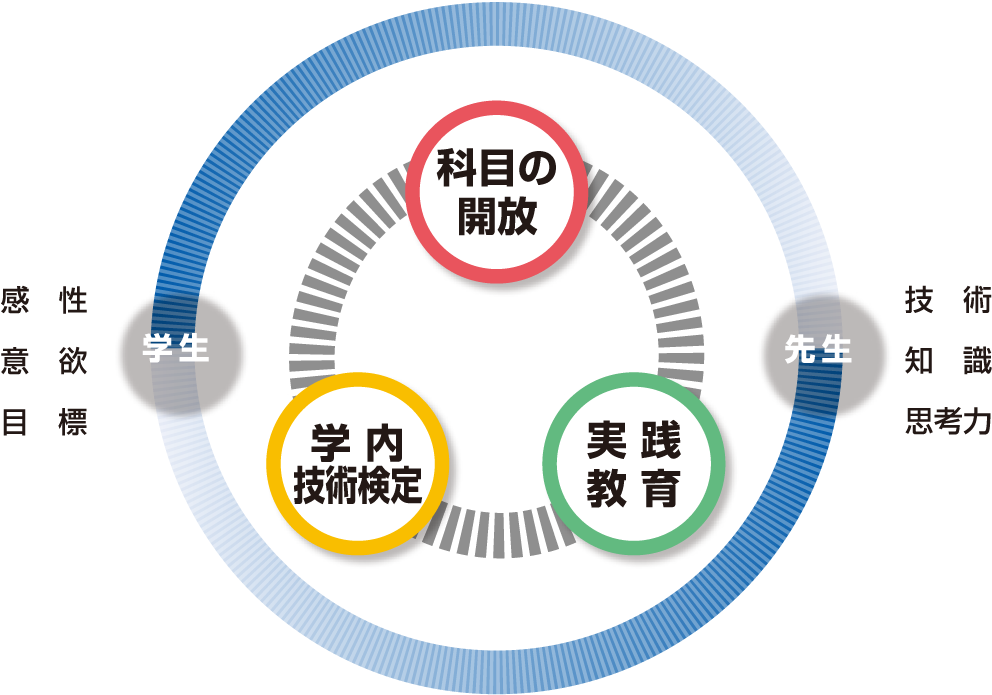 Sensibility and technique are transmitted from person to person.
Through communication with students, one by one, creating an environment in which, "students learn of their own volition," to foster creativity and train human resources equipped with expressive abilities.
1.Open subjects
Students can cross between courses and subjects, enabling them to freely select what area of study they want to pursue further.
They might be interested in a subject in a different course
They might have learned something in the past, and now want to try it again.
They were advised to take a particular subject by their internship host.
An internal technical assessment indicated a lack of knowledge/skill in a particular area.
This clearly shows that students are free to study in accordance with their interests and their technical level, so that they can steadily pursue the career path they desire (by choosing elective subjects from another course or by using the auditing system).
2.Internal technical assessment
The aim of this College is to train "professionals that can contribute to society." To meet this standard, the College has set up its own unique technical assessment method. The degree of a student's technical accomplishment is ranked as 3rd class, 2nd class, or 1st class, to enable their technical development to be grasped at a glance. At the same time, the assessment identifies the next goals that the student needs to strive for.
3.Practical education
To help students get out into society and become active as creative professionals as quickly as possible after completing their studies, in addition to providing career training, the College has set up an internship system that matches hosts with the ambitions and technical capability of students. In the College: students participate in contests and events as part of groups created from across different courses, to challenge themselves at working in different fields. Outside the College: Some of the internships that the College has arranged include positions at Imagica Digitalscape Co., Ltd. and Maar-sha Publishing Co., Ltd. (a publisher of books on design techniques), and as the assistant of active professional manga artists.
International student support
Guidance to help in improving Japanese-language ability
The College provides courses to help international students who are unfamiliar with the Japanese language to boost their skills. Even in the world of specialized training colleges, globalization keeps on advancing. Every Saturday, the College implements a "Japanese Language Skills Boost Class" for international students.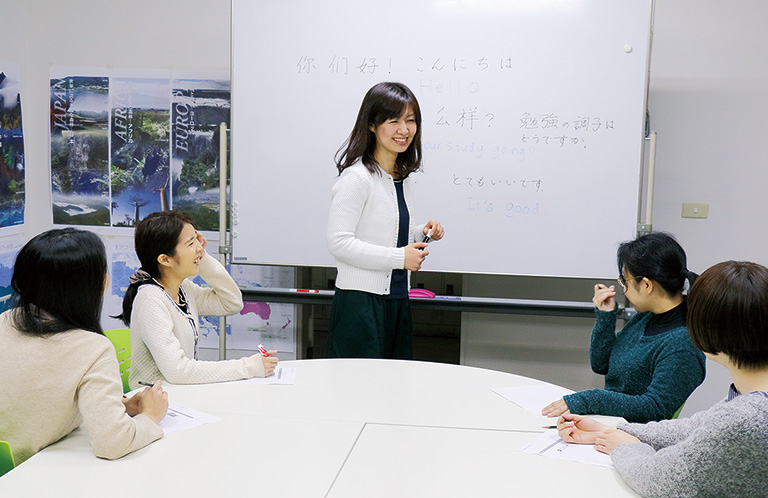 Japanese Language Skills Boost Class
In order to make a presentation of their creative works in Japanese, even international students who can speak Japanese relatively well need to go beyond daily conversation to learn the specialist vocabulary of their fields of study. In this course, we will guide you starting from elementary level Japanese in an easy-to-understand manner.